How can I check your schedule and secure your group to perform?
Just check our online schedule for the most up to date information regarding where we're playing. Please email rod@rpbigband.com or call 319-530-0479 with the date, location and approximate timing for your event. Rod is now scheduling Jazz education clinics and workshops along with other individual performance commitments on the same calendar, but will get right back to you with their availability.
Once we''ve discussed your specific needs and our associated fees, you will receive two copies of an agreement (contract) asking you to sign both copies, keeping one for yourself, and return the other copy back with a $200 non refundable deposit to secure the date. The remaining balance is due at the time of performance.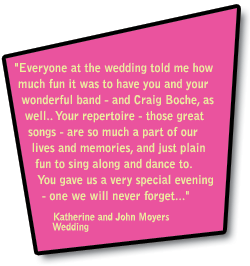 How much do you charge?
A number of variables are considered when answering this question...location, size of the event, travel distance to the engagement, duration of the performance, additional musical needs (i.e. requests or Jazz quartet) - all contribute to the overall fee. Live music will pay for itself time and time again as you reflect on the all costs related to hosting events of any size. Let us know your requirements and we can accommodate both your needs and your budget.
How long are your performances, and do you take scheduled breaks?
The length of performance is really up to you...we typically play 4 hours with 3 short (15min) breaks spread throughout the night, while providing CD background music during the breaks. Consider using the breaks for speech giving, video presentations, toasts, OR provide your own CD with your own choice of tunes.
What are your equipment and space requirements?
Very little is required to meet our needs. We provide a complete sound system, cables, lights and stands but do ask for the following to be made available per group:
Big Band


• Access to 2 separate standard 110-volt wall outlets
• 12 solid (non folding) chairs w/ no arms
• An average stage area space of 20 ft. wide X 12 ft. deep

"Not So" Big Band


• An average stage area space of 12 ft. wide X 10 ft. deep.
• Access to 2 separate standard 110-volt wall outlets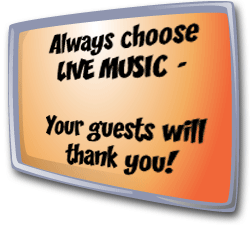 Can you provide music in addition to the "Main event"?
Yes, we can...consider the jazz quartet for supporting the ambience of your cocktail or dinner hour. The size and function of this group is meant to support conversation and socializing without demanding a lot of attention. Repertoire for this group is primarily Jazz and Latin standards and the instrumentation is sax, piano, bass and drums.
How do you select music for our event?
We perform all arrangements in both libraries regularly and, as such, are ready for just about any situation. That said, we won't misrepresent what we're able to do, nor will we promise anything we're not comfortable delivering. If you're looking for "Cat Scratch Fever" or " Meatloaf''s Greatest Hits" medley... you may want a different group. Upon request, a song list can be supplied for you to either highlight "must have" titles, and almost equally important, note any specific songs or styles you choose to avoid. Trust our 25 years of experience to custom fit a backdrop to your satisfaction.
Do you handle special requests?
We can accommodate a number of inquiries for special requests. Pricing is commensurate to the complexity, instrumentation, and length of the song(s). We have developed a library to accommodate just about every musical taste, but we're glad to discuss this additional Premium service.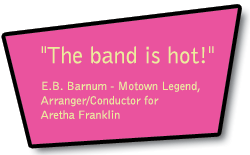 What do you wear at the performance?
We wear attire appropriate for the function. Examples are; black tux with long black tie for weddings, concerts and formal events - dark coat and tie for receptions and private parties - black dress slacks with solid colored casual dress shirts for outdoor festivals and parties.
How long does it take for you to set up?
Much depends on the facility we will be performing in... generally we arrive 1-1/12 hours before any guests arrive. This allows for a more pleasant experience for everyone involved and ensures that all the larger equipment is set and ready when needed. Note--- facilities in downtown Chicago, St. Louis, Kansas City, Omaha or Minneapolis often require a longer load in period as access is more restricted and finding parking may be problematic.